Tuesday, July 31st, 2012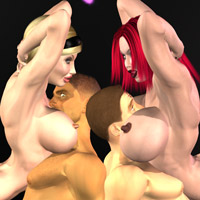 Tania hasn't been very active on the sexfighting scene lately. Her duties as owner of the No Holds Bar forced her to MC many events she would've loved to be a part of.
Sophie, on the other hand, has been the muse of renown Amazonologist Professor Michel Leblond who found in her the perfect modern-day Amazon. Her sexfighing career has been punctuated by some agonizing defeats and some great wins, but she has yet to score any major Titles.
The last time these two League founders faced each other was in the semifinal of the 2005 Tournament. Their fight suddenly turned into a sexfight and Tania won—back then, an orgasm was considered a submission.
Today, these old rivals test their sexual prowess. Who will make her man cum first?