Monday, August 22nd, 2011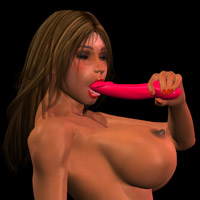 It all started when Caribe challenged any other girl to have more orgasms masturbating than her in ten minutes—9. Jenn was the first to try her hand—her fingers—at Caribe's Challenge and was able to score an orgasm a minute. Then Louise tried to beat Jenn's score, but only came 8 times—ONLY!
This week, a surprise contestant will try to beat Jenn's mark. She is the host of the oil fights at the Wildcat Saloon and a hot lady: Devon. Will she be able to cum more than once a minute? That would be something worth seeing!