Thursday, September 21st, 2017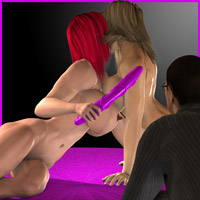 At the beginning of this year, Annie faced Sophie in a sexfight. The stake? Sophie's boyfriend, professor Michel Leblond, Amazonologist.
To everyone's surprise, the twin defeated the Pink Panther. Most think the blonde got lucky, and Sophie intends to prove it tonight by beating her in a double dildo sexfight and getting her man back.